6 of Perth's best mums and bubs fitness classes
We're all aware of the benefits of exercise; stronger bones, improved mood, greater energy levels, better cardiovascular health and more restful sleep – to name a few – but as mums there can be so many (perceived and real) barriers!
Lack of time, a 'tiredness factor' that just doesn't ever seem to disappear, a baby who is still fed 'on-demand,' a lack of childcare and even a dose of the guilts at taking some time out to exercise. Combine one or all of these factors with concerns about your pelvic floor or abdominal separation and it can all seem too hard.
With all of this in mind, we have put together a list of some of Perth's best options for mums and bubs fitness.
These classes are run by professionals trained to work with mums and mums-to-be, they understand your requirements and really want to help you achieve health in a holistic way.
With everything from boot camp style and strength training, to pilates, yoga and even massage, there is something here for everyone.
This article is sponsored by the businesses listed however we genuinely love what they offer mums!
BLOOM YOGA: Pregnancy, Postnatal and Women's Yoga
Location: Kingsley
Yoga for pregnancy, birth and baby is at the heart of Bloom yoga. Classes are small, inclusive and nurturing. Owner Sara has been teaching these classes for 10 years, she began teaching when her daughter was just 11 days old!  Sara says…
Over the years, I've come to understand and realise that what mums need is nurturing.  They don't need a class where they're working hard or trying to get back something they have supposedly 'lost' i.e. their body!

Rather this class is about embracing change, the often foggy, messy changes that come with motherhood: our new body, our new baby and our new role.  It's less about having to DO, and learning how to just BE: be still, be present and find some joy and connection with our baby without the weight of responsibility.
As well as being a qualified pre and postnatal specialist and a Level 3 Yoga Australia teacher, Sara has been training other yoga teachers for the last 3 years in this modality. Sara is also a Yoga Therapist, so her approach to working with women is often a therapeutic one.
A range of holistic classes are offered both ONLINE & IN PERSON, including:
Pregnancy yoga focuses on mindful breathing, movement and relaxation. Courses are for beginners at any stage of pregnancy and run for 5 weeks.
The Yoga for Active Birth workshop educates mums-to-be and their birth partner on how to use movement and mindfulness techniques to prepare and plan for their baby's birth and beyond. This is a 3-hour workshop and is recommended from 20 weeks onwards – the sooner the better!
Mum & Baby yoga is a series of gentle postnatal classes sequenced so that you can enjoy the benefits of yoga: breathing, movement, strengthening, toning & relaxation while engaging and playing with your baby.
Mums are welcome to join the class anytime following birth, however, it is recommended to wait at least 4-6 weeks following a vaginal birth and 8 weeks following a caesarean birth (please check with your care provider). This course runs for 4 weeks or 8 weeks.
I absolutely love mums and bubs yoga. It's a great opportunity to get out of the house with my little one in a safe and fun activity. Its a lovely bonding experience and I can't wait to attend next term. Thanks Sara!
Carla, September 2019
As it's not always easy or possible for mums to get to classes in person, we've also created an ONLINE platform for ALL of our class and course offerings.
Owner Sarah says "as a new mum I did A LOT of home practice while the kids were napping during the day, so with this in mind many of the practices are shorter in duration so mums can enjoy snippets of practice, choose from restful, nurturing practices or flowing sequences as well as guided relaxation and meditation, all geared towards mums!"
Moving on from early motherhood, Bloom Yoga offers Parents' yoga for parents of babies, crawlers and toddlers. The emphasis on the class is for parents to practice yoga, while children are welcome to come and may even mimic some of the postures. The in person class size is limited to just 12 parents, allowing ample room for the kids to move around if they wish.
There are also yoga classes for kids (ages 4 and up) and teens.
For more info head to the Bloom Yoga website.
FITRIGHT
Location: Multiple locations around Perth and Online
FitRight is all about empowering women to take control of their pelvic floor health! Owned by Women's Health Physiotherapist Taryn Watson, FitRight provides a huge range of physio-led exercise classes for pregnancy, postnatal and beyond.
With options for Studio or Aqua, come and experience what is known as 'The FitRight Difference':
All of the FitRight instructors are physiotherapists who have done extra training in the areas of pregnancy and postnatal health, and pelvic floor health.
Because classes are a physio service, they are rebatable on private health insurance
A pre-assessment is necessary before starting FitRight classes, and a summary is then sent to the instructor. So the FitRight instructor knows exactly who in the class needs modifications or extra supervision for common issues like abdominal muscle separation, pelvic girdle pain, wrist pain, prolapse and pelvic floor weakness.
All FitRight classes are capped at 8-10 participants, and the instructor will regularly move around and check technique and ask if anyone would like their abdominal muscles checked during relevant exercises. The class outlines are designed to have multiple regressions and progressions so that women with different needs can still participate safely.
All Baby&Me and Toddler&Me classes have community volunteers present in the same room to care for babies and toddlers while their Mums have some much needed time to focus on themselves. Children can definitely be with their Mums on their mats if that works better though!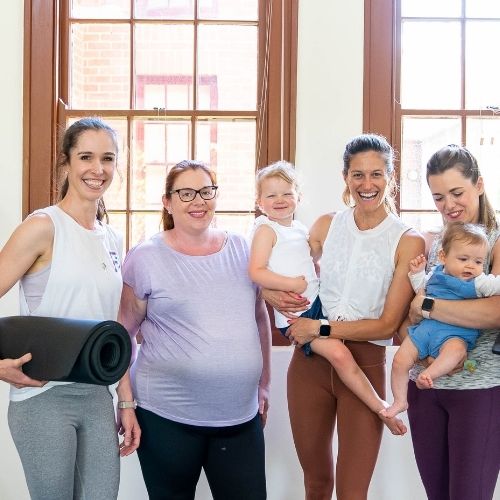 Bump&Me Studio (Pregnancy Pilates): Suitable for women at any stage of pregnancy, these pilates-style classes aim to optimise strength, flexibility and posture, with a specific focus on pelvic floor muscle activation. Education about pregnancy and postnatal topics is given throughout the classes by the physiotherapist instructors.
Bump&Me Aqua (Pregnancy Hydro): These classes involve low impact cardiovascular exercise in the water. They have a specific focus on stretching tight muscles and joints, and pelvic floor muscle training to prepare for birth and the postnatal period. Suitable for expectant mums at any stage of pregnancy.
Baby&Me Studio (Postnatal Pilates): Suitable for mums with babies approximately 8 weeks to 12 months old. This course has the option to add on a 20-30 minute baby massage and developmental play routine first before the exercise class begins. This is a beginner postnatal class aimed at promoting optimal posture, flexibility and strength with a specific focus on abdominal and pelvic floor muscle rehabilitation.
New Mums Aqua (Mums and Bubs Hydro): Suitable for mums with babies approximately 8 weeks to 12 months old. This course has the option to add on a 20-30 minute Baby Pool Play session with the Physio before or after the exercise class begins.
Toddler&Me Studio Fitness Classes:  Suitable for Mums with children approximately 6 months to 4 years of age. Exercise in this intermediate to advanced postnatal exercise class is aimed at strength and low impact cardio workouts with a specific focus on abdominal and pelvic floor muscle rehabilitation.
For Baby&Me and Toddler&Me classes, community volunteers are usually present to look after the babies and children, they will be in the same area as you while you exercise so that you can easily attend to your child.
Empower Studio: Suitable for Mums with children over approximately 6 months, plus women of any age wanting a 'pelvic floor friendly' but challenging workout – because we know that you don't stop being postnatal just because your baby is 6 months old! These classes involve intermediate to advanced core exercise, strength exercise and low impact cardio workouts with a specific focus on abdominal and pelvic floor muscle rehabilitation. No children or volunteers at these classes.
Classes are run in 6 week courses, although mid course enrolments are possible.
Bookings and class details are via the FitRight website.
YOMASSAGE PERTH
Location: Kalamunda
Brand new to Australia, Hills Massage presents Yomassage – a fusion of yoga and remedial massage.
This blend of restorative yoga positions is enhanced with therapeutic touch by a remedial massage therapist (Michelle) to bring about the ultimate in relaxation.
Yomassage classes are kept small so each client receives individual attention from their therapist. One therapist can serve up to 5 clients in a single session, and up to 10 clients if they have an assistant.
Clients can expect a warm room with mood lighting and soft music. Everything will be provided for you, so there is no need to bring anything. Yomassage classes are suitable for all levels, no experience required.
This is the ultimate class for mums-to-be and new mums (and is varied to be safe), providing a space for nurturing and rest.
CLICK HERE to find out more.
You can also follow Yomassage on Instagram.
---
Looking for stylish pregnancy and nursing activewear?
MummActiv is a Perth-based company offering functional clothing for active mums and mums to be.
---
KANGATRAINING
Location: Multiple locations in WA
Recovery is the new postpartum.
Kangatraining is a postnatal safe, full body workout during which both cardiovascular endurance and muscular strength are enhanced. All classes are designed by woman's health physiotherapists, midwives and babywearing consultants to look after your baby and your postnatal body, even those mums with abdominal separation. Special consideration is taken to protect the pelvic floor in all classes.
Unlike traditional exercise classes, mums don't need to worry about finding a babysitter or minding an unsettled baby during class as their baby is worn on them in a baby carrier and get to take part in all the fun!
The best part is the gentle movements in the class usually means more often than not your little one drifts off to sleep whilst mum enjoys some self-care time and carrier cuddles all whilst keeping their little one close.
As well as the physical benefits, Kangatraining also offers mums the opportunity to meet other local mums in a fun, safe, supportive, and relaxed environment as well as giving you time to feel like yourself again. Kangatraining also boosts mum's emotional wellbeing and promotes bonding between mum and baby.
What if I don't have my own carrier or I've never worn one before?
No problem, we have hire carriers available and some of our outdoor classes you can use a pram. We will also help you fit your own carrier or the hire carrier.
Who can Kanga?
Everyone is welcome at Kanga. Mum just needs to be at least 6 weeks post vaginal birth or 12 weeks post caesarean birth. Kanga class isn't just for mums, toddlers and older kids are welcome too!
If your little one doesn't want to go up in the carrier, that is completely fine too. They can have a little play close by or join in the action and maybe even wear their own doll too!
Kangatraining has multiple locations over Western Australia and is available Australia wide!
CLICK HERE to find your nearest trainer.
4 FUN & HEALTH
Location: Chidlow
With qualified staff and a purpose-built studio 4 Fun & Health provide a holistic health and fitness service for the whole family.
There are options for small group or personal training sessions, tailored to suit your needs, from pregnancy to mums and bubs, as well as sessions with teenage children because our need to continue to be fit and healthy doesn't stop as our children grow.
We believe in creating a lifestyle that you don't need to 'escape' from, that incorporates your needs being met week in, week out – we really are here to simplify the process for you. – Karen, owner
4 Fun & Health also offer sports massage and nutritionally sound pre-made meals to take home for yourself or the whole family, as well as a Royal Life Saving Society endorsed swim school where they provide swim lessons for the whole family to enjoy, starting from 4 months old.
Fitness: From personal training to small group sessions, 4 Fun & Health provide a range of fitness training options, tailored to your individual needs. There are existing Mums and Bubs sessions that can be joined or created by a group of friends coming together at a time that suits each week. Their whole family sessions are also a bit hit, helping everyone grow stronger together.
Health: Pre-made meals and sports massage options add additional support for you to be able to continue when time is limited or the body and/or mind is needing some extra support.
Swimming Lessons:  Lake Lesch Lessons allow for children to be able to learn to swim in a natural body of water and develop the skills and capacity to enjoy all there is to do in open waters.
Available from 4 months of age (under 12 months are in indoor heated pools), Royal Life Saving Society endorsed and AustSwim qualified instructors, we offer in-term and private lessons.
In-term lessons follow the RLSS curriculum while private lessons are adapted to what you or your child would like to focus on, including; water skills, stroke development, water safety and around the pool awareness.
To find out more, head to their website.
ERIC ST PHYSIO & MOVEMENT CENTRE
Location: Cottesloe
Eric St Physiotherapy offers a range of services, with a focus on women's health and wellbeing and a holistic approach in supporting women during pregnancy and postnatally.
Enjoy physio-led and pelvic-floor friendly exercise classes including:
Preparation for labour and birth through individually tailored, small group Pregnancy Yoga and Pilates-inspired programmes that help to safely maintain fitness and tone throughout.
Small group Postnatal and Mums and Bubs exercise sessions held in a fully equipped Pilates studio and functional training gym, with a great view and amazing coffee shop downstairs!
Eric St physios are not only experienced in musculoskeletal issues but have extra training in women's health (and are mums themselves). They are also able to do home visits, which is so incredibly helpful for new mums.
To find out more CLICK HERE.
---
Looking for stylish pregnancy and nursing activewear?
MummActiv is a Perth-based company offering functional clothing for active mums and mums to be.
---